1 Hour Chili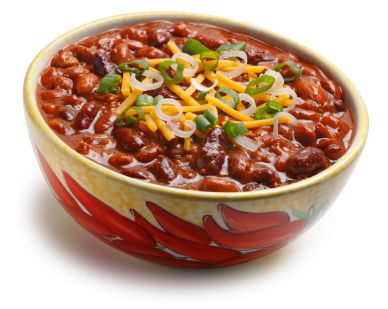 Ingredients
2 pounds ground beef
2 cloves minced garlic
14 oz can of tomato sauce
10 oz can of diced tomatoes and green chilies
1/2 tsp salt
1 tsp oregano
1 tbs ground cumin
2 tbs chili powder
14 oz kidney beans drained and rinsed
14 oz pinto beans drained and rinsed
1/4 cup corn flour
1/2 cup warm water
sour cream, chopped onion, grated cheddar, cilantro for serving
corn chips for serving
Directions
Brown the beef with the garlic in a large pot over medium-high heat.  Drain off excess fat.  Add tomato sauce, diced tomatoes, oregano, cumin, and chili powder.  Stir and cover. Cook on low heat for 30 minutes.
Add the beans.  Stir to combine, then cover and cook on simmer for 20 minutes.
Mix the corn flour with warm water to form a paste.  Add to chili and simmer for 10 minutes.
Serve with sour cream, chopped onion, grated cheese, cilantro and corn chips on the side.
---
---