Bread Maker Banana Bread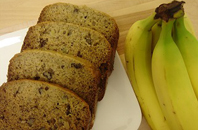 Ingredients (for 2-lb. breadmaker)
3 large eggs, beaten
1/4 cup vegetable oil
1 tsp. vanilla extract
1 cup ripe and mashed banana
2 cups all purpose flour
3 tsp. baking powder
1 tsp. baking soda
3/4 cup sugar
1/2 tsp. salt
Directions:
Add the ingredients to the baking pan in the order listed, except for the walnuts.
Select the CAKE course, set the crust setting to LIGHT, and press START.
When beeps sound, add: 1/2 cup chopped walnuts, close the lid and continue baking.
When baking completes, allow the bread to cool, remove from pan, slice and serve.
---
---