Basil Chicken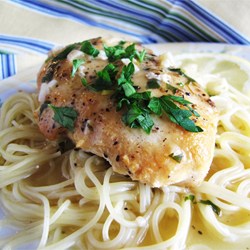 Ingredients
4 large chicken fillets
–Topping–
1 cup fresh bread crumbs
1/3 cup grated Parmesan cheese
1 tbs chopped parsley
1/4 lb bacon
3 oz butter
2 cloves garlic
2 tsp Worcestershire sauce
1/2 tsp dry mustard
–sauce–
1/2 cup oil
1/4 cup vinegar
1 clove crushed garlic
1 cup fresh chipped basil
1/2 cup cream
1 egg yolk
Directions
Preheat oven to 375
Topping: Combine bread crumbs, cheese and parsley.  Saute chopped bacon and drain well.  Add bacon to the breadcrumb mix.
In pan, melt butter, then add crushed garlic, Worcestershire sauce and mustard.  mix and heat through.  Dip the chicken fillets in the butter mixture and coat well.  Arrange in shallow, ovenproof dish.  Press the bread crumb mixture on top of the chicken pieces to form a crumb topping.  Bake uncovered for 25 minutes or until thoroughly cooked.
Sauce: In saucepan combine all sauce ingredients except the egg yolk.  Stir until heated and then add the egg yolk, stirring until thickened.  Do not boil.  Pour over the chicken pieces just before serving.
---
---