Chewy Chocolate Cookies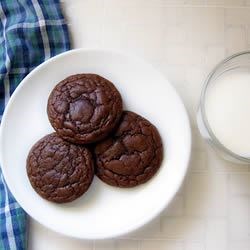 CHEWY CHOCOLATE COOKIES
Ingredients:
·         1 1/4 Cup softened butter
·         2 eggs
·         2 Cups of all-purpose white flour
·         1 teaspoon baking soda
·         2 Cups of semi-sweet chocolate chips
·         2 Cups of sugar
·         2 teaspoons of vanilla extract
·         3/4 Cup of cocoa powder
·         1/2 teaspoon of salt
Directions:
Preheat oven to 350 F.  In large bowl, cream butter and sugar until light and fluffy.  Add eggs and vanilla.  Beat.
Sift together flour, cocoa, baking soda, and salt.  Blend the dry ingredients with the creamed mixture using low speed on mixer (try using a spatula to help initially start the blend to save on mess of powder). 
Stir in chocolate chips with wooden spoon by sprinkling and mixing in increments, so that chips are evenly distributed in mixture.
Drop by teaspoon-full onto ungreased cookie sheets (not stone cookware).  Bake 8 to 9 minutes (Do not over-bake).  [The cookies will puff while baking, and flatten while cooling.]  Cool slightly on cookie sheet.  Remove from sheet onto wire rack to cool completely, after finding that the cookies will not fall apart in the process.
ENJOY!
---
---