Chicken Lo Mein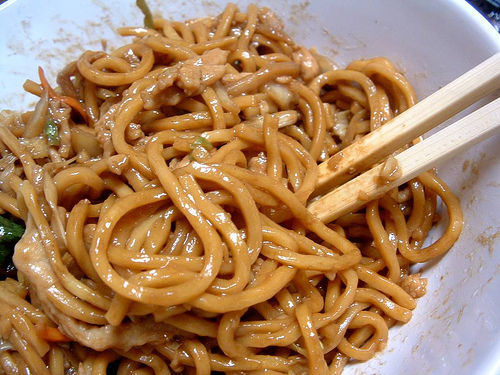 Traditionally, this dish is made with thin lo mein noodles (available in Asian markets). Spaghetti or linguini can be substituted, or you can also use thicker noodles if desired. This Chicken Lo Mein recipe serves 2 – 4.
Ingredients:
1/2 pound boneless, skinless chicken breast
.
Marinade:
2 teaspoons light soy sauce
1 teaspoon Chinese rice wine or dry sherry
1/4 teaspoon sesame seed oil
1 teaspoon cornstarch
.
Sauce:
3/4 cup chicken broth
2 tablespoons plus 1 teaspoon oyster sauce
3/4 teaspoon sugar
.
Other:
1/2 pound Chinese noodles (thin or thick noodles are fine)
1 cup shredded carrots (about 1 carrot)
1 8-ounce can straw mushrooms
3 tablespoons vegetable or peanut oil for stir-frying, or as needed
1 teaspoon chopped garlic
1/4 teaspoon salt
Salt and pepper to taste, if desired
Preparation:
1. Cut the chicken into thin strips about 2 inches long. (It's easiest to do this if the chicken is slightly frozen). Add the light soy sauce, rice wine or sherry, sesame oil and the cornstarch. Marinate the chicken for 20 minutes.
2. While the chicken is marinating, prepare the other ingredients: Combine the sauce ingredients in a bowl and set aside.
Cook the noodles in boiling water until they are cooked al dente (tender but still firm). This will take about 3 minutes for fresh noodles, and 4 – 5 minutes for dried noodles. Drain, rinse with cold water, and drain again.
3. Cut the carrot into thin strips to match the chicken. Rinse the straw mushrooms under running water to remove any "tinny" taste. Drain thoroughly.
4. Heat 1 tablespoon oil over medium high to high heat. Add the garlic, stir-fry for a few seconds until aromatic, then add the chicken. Stir-fry the chicken until it changes color and is 80 percent cooked. (If you need more oil, try adding 1 tablespoon water). Remove the chicken and clean out the wok.
5. Heat 2 tablespoons oil and the salt in the wok. Add the carrots and mushrooms. Stir-fry for 1 minute, then add the chicken. Add the noodles, stirring to mix in with the other ingredients. Add the sauce into the wok, mixing with the other ingredients.
6. Cook for 2 more minutes. Taste and add salt or pepper if desired. Serve hot.
---
---