Chinese Dutch Oven Chicken Casserole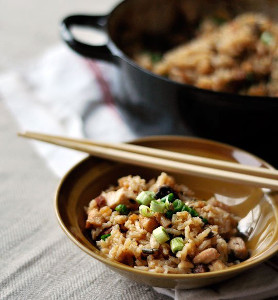 Ingredients
1/4 cup soy sauce
1 1/2 teaspoons sugar
2 teaspoons toasted sesame oil
2 teaspoons cornstarch
2 boneless chicken breasts, about 1 pound, cut into 1/2-inch cubes
3 scallions, roughly chopped, plus extra to serve
3 garlic cloves, minced
1-inch piece fresh ginger, roughly grated
2 ounces smoked sausage, such as Chinese lapchang or good Italian salami, cut into 1/4-inch cubes
10 ounces fresh shiitake mushrooms, caps thinly sliced
1 tablespoon canola or peanut oil
2 cups Chinese long grain rice
1 teaspoon salt
4 cups chicken stock
Directions
Heat the oven to 350°F. Whisk together the soy sauce, sugar, sesame oil, and cornstarch in a medium bowl. Stir in the chicken, scallions, garlic and ginger, and toss so that they are coated with the liquid. Place this mixture in the refrigerator and let marinate for at least 15 minutes while you cook the mushrooms.
Place an oven-safe pan, like a 3-quart Dutch oven, over medium high heat on the stove. When it is hot, add the sausage and turn the heat down to medium-low. Let the sausage slowly release its fat. When the bottom of the pot is slick with the sausage fat, add the mushrooms. Turn the heat back up to medium high heat and let the mushrooms cook, without stirring them, for 5 minutes. Flip them over and cook for another 3 minutes.
Add 1 tablespoon oil to the pot, and sauté the rice briefly to develop some toasty flavor (you don't want to brown the rice here, just sauté it for 1 minute or so), then add the salt and the chicken mixture from the fridge. Pour in the stock. Bring to a boil.
Turn off the heat, cover with a lid or with foil and bake for 45 minutes. Make sure to taste the rice for doneness before taking it out of the oven. Let stand 5 minutes, covered, before serving. Stir up the rice before serving, as the chicken and mushrooms will have risen to the top during baking (see photo below). Stir thoroughly so that they are incorporated throughout the rice.
Garnish with chopped scallions and serve with extra soy sauce and chili garlic sauce, if desired.
Serves 6
---
---