Chinese New Year's Noodles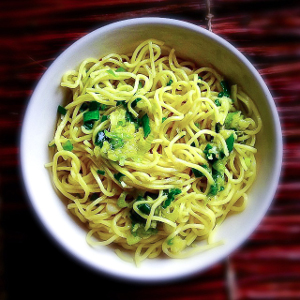 Ingredients:
8 oz. dried rice noodles
12 dried Chinese or oyster mushrooms
1 cup chicken or vegetable broth
1 tablespoon soy sauce
1 tablespoon corn starch
1 teaspoon sugar
1 tablespoon peanut oil
2 teaspoons minced fresh ginger
1 teaspoon minced garlic
1.5 cups Chinese (celery) cabbage
1.5 cups bean sprouts
1 cup sliced bamboo shoot
1 teaspoon sesame oil
1-2 scallions chopped for garnish
Directions:
1. Prepare noodles according to package directions and set aside.
2.  Soak mushroom in warm water for 20 minutes, squeeze dry, trim off stems, cut into bite-sized pieces.
3.  While mushrooms are soaking, make sauce by mixing the chicken or vegetable broth, soy sauce, cornstarch, and sugar in a small bowl.  Set aside.
4.  In a skillet or wok, heat peanut oil.  Add garlic and ginger and stir-fry until garlic barely begins to brown.
5.  Add mushrooms, cabbage, bean sprouts, and bamboo shoots and stir fry until tender (about 3-4 minutes)
6.  Add sauce and noodles to pan.  Lower heat, and simmer uncovered for 3-5 minutes.
7.  Sprinkle with sesame oil, if desired, and toss well.  Remove from heat, garnish with scallions, and serve.
Serves: 4
---
---