Horchata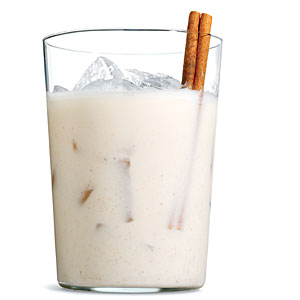 Ingredients
1 cup uncooked white rice
2 1/4 cups boiling water
1/4 to 1 cup of sugar
1 tsp vanilla
4 cups of cold water
2 sticks of cinnamon
Directions
Ground rice to a fine dust in a food processor or blender.
In a medium-size bowl, pour boiling water over rice.  Add cinnamon sticks and let sit for 6-8 hours.
Pour rice mixture into a blender for about 6 minutes or until no longer gritty.
Add 2 cups of water to blender in 1/2 cup increments.
Strain with mesh colander and cheese cloth until as many solids as possible are removed.
Add the rest of the water and sweeten to taste.
Chill in fridge or serve immediately.
Yield 6 Servings
---
---