Keto Fried Chicken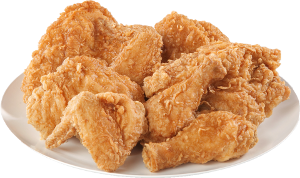 Ingredients
4 boneless skinless chicken thighs (about 18 ounces total)
oil for frying
Egg Wash:
2 large eggs
2 tablespoons heavy whipping cream
"Breading":
2/3 cup blanched almond flour
2/3 cup finely grated parmesan cheese
1 teaspoon salt
1/2 teaspoon black pepper
1/2 teaspoon paprika
1/2 teaspoon cayenne
Directions
Add 1 to 2 inches of oil to a pot over medium-high heat. Heat the oil to 350 F, and frequently monitor to maintain the temperature by adjusting the flame during frying.
In a bowl, add eggs and heavy cream, beating until well-mixed. In another bowl, stir together all breading ingredients until well-mixed. Set aside.
Cut each chicken thigh into 3 evenly sized pieces. If moist, pat them dry with paper towels.
Coat each piece first in the breading, then in the egg wash, and then in the breading again, coating all sides. Shake off excess and carefully lower into the hot oil. Fry until deep brown and cooked through, about 5 minutes, and drain on paper towels.
Repeat with the other chicken pieces. You may want to work in batches to avoid overcrowding in the pot — I usually have 6 chicken pieces frying simultaneously in a 8-inch wide pot.
Serve immediately while hot and crispy.
Source – https://www.savorytooth.com/
---
---