Macaroni and Cheese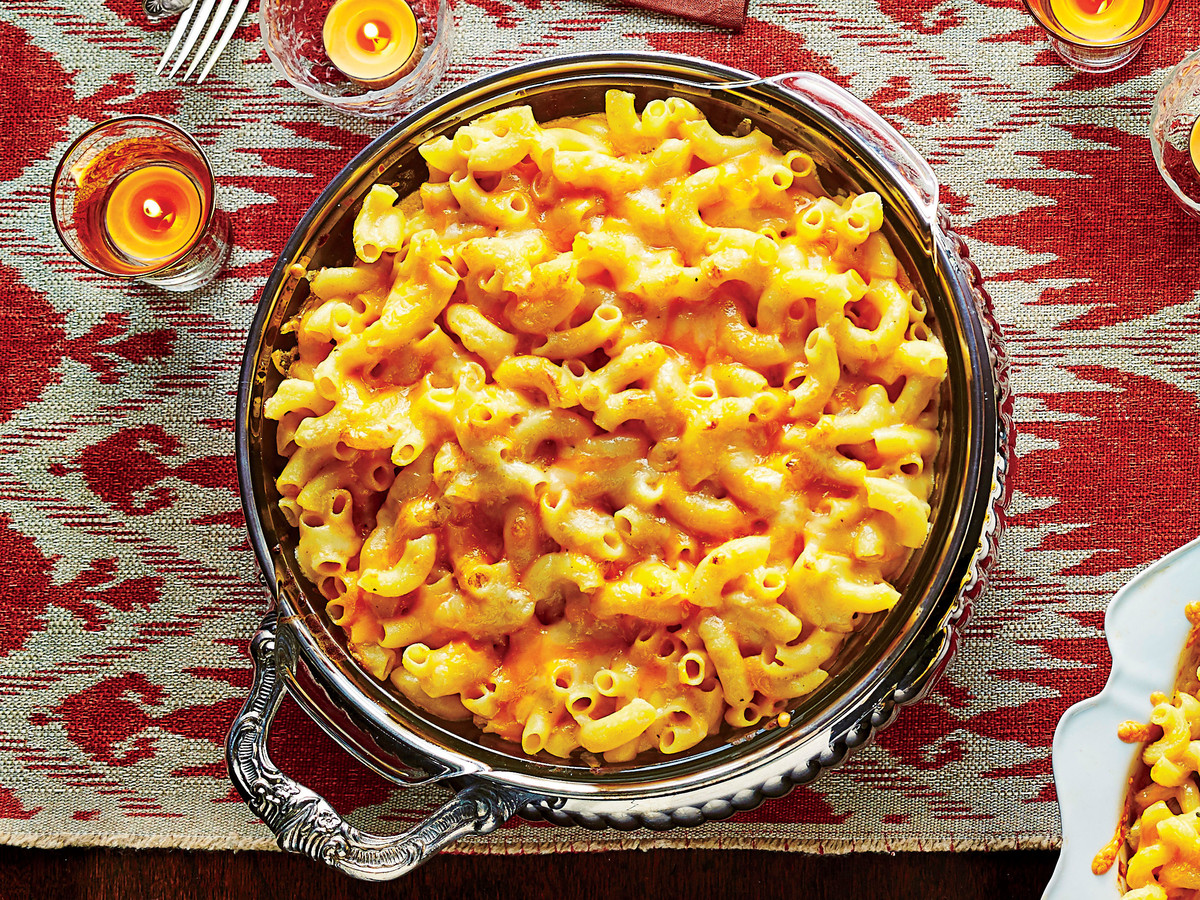 Ingredients
16 ounces uncooked large elbow macaroni, large shells, or cavatappi pasta
6 tablespoons salted butter
1/3 cup grated yellow onion
2 teaspoons dry mustard
1 teaspoon kosher salt
1/4 teaspoon black pepper
1/8 teaspoon freshly grated nutmeg
1/8 teaspoon cayenne pepper
6 tablespoons all-purpose flour
3 1/2 cups milk
1 3/4 cups heavy cream
2 teaspoons Worcestershire sauce
4 ounces extra-sharp yellow Cheddar cheese, shredded (about 1 cup), plus 4 oz. diced (about 1 cup), divided
4 ounces sharp white Cheddar cheese, shredded, (about 1 cup), plus 4 oz. diced (about 1 cup), divided
16 ounces uncooked large elbow macaroni, large shells, or cavatappi pasta
6 tablespoons salted butter
1/3 cup grated yellow onion
2 teaspoons dry mustard
1 teaspoon kosher salt
1/4 teaspoon black pepper
1/8 teaspoon freshly grated nutmeg
1/8 teaspoon cayenne pepper
6 tablespoons all-purpose flour
3 1/2 cups milk
1 3/4 cups heavy cream
2 teaspoons Worcestershire sauce
4 ounces extra-sharp yellow Cheddar cheese, shredded (about 1 cup), plus 4 oz. diced (about 1 cup), divided
4 ounces sharp white Cheddar cheese, shredded, (about 1 cup), plus 4 oz. diced (about 1 cup), divided
Directions
Preheat oven to 350°F. Prepare pasta according to package directions for al dente.
Melt butter in a large saucepan over medium. Add next 6 ingredients; cook, stirring, 30 seconds. Add flour, and cook, stirring, until golden, 2 minutes. Gradually whisk in milk and cream. Bring to a boil, whisking occasionally. Reduce heat to medium-low; simmer, whisking, until slightly thickened, 5 minutes. Stir in Worcestershire sauce. Remove from heat; stir in 3/4 cup each of shredded Cheddar cheeses until melted. (Reserve remaining 1/4 cup each of shredded cheeses.) Stir in pasta and diced cheeses; pour into a lightly greased 13- x 9-inch (3-quart) baking dish.
Bake on a rimmed baking sheet in preheated oven until bubbly and golden, 30 minutes. Remove from oven; increase oven temperature to broil. Sprinkle with reserved shredded cheeses; broil 6 inches from heat until cheeses are melted and golden, about 2 minutes. Remove from oven; cool slightly on a wire rack, about 15 minutes.
Serves: 10
Source: Southern Living
---
---