Pantry Pasta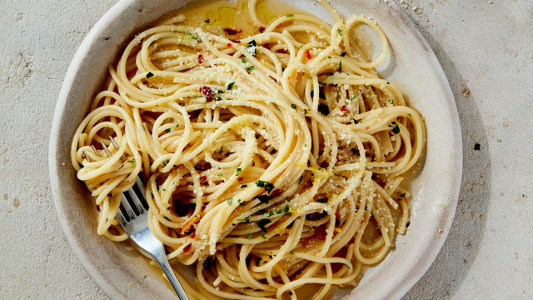 Ingredients
12 oz. spaghetti or other long pasta

Kosher salt

4 garlic cloves, thinly sliced

¼ cup extra-virgin olive oil, plus more for drizzling

3 oil-packed anchovy fillets (optional)

¼ tsp. crushed red pepper flakes

1 cup finely grated Parmesan, plus more for serving

4 Tbsp. unsalted butter, cut into pieces

Freshly ground black pepper

⅓ cup finely chopped parsley

1 tsp. finely grated lemon zest

1 Tbsp. fresh lemon juice
Directions
Cook pasta in a large pot of boiling salted water, stirring occasionally, until very al dente, about 3 minutes less than package directions.

Meanwhile, cook garlic and ¼ cup oil in a large heavy pot over medium heat, stirring occasionally, until garlic is golden, about 4 minutes. Add anchovies (if using) and red pepper flakes and cook, smashing anchovies with a wooden spoon to break them up, until anchovies begin to dissolve, about 1 minute.

Add 1¼ cups pasta cooking liquid along with 1 cup Parmesan to pot with anchovies and garlic and cook, stirring, until cheese is melted, about 1 minute. Using tongs, add pasta to pot, then add butter and lots of black pepper. Cook, tossing energetically and adding more cooking liquid if needed, until pasta is al dente and sauce is thickened and coats pasta, about 4 minutes. Remove from heat; add parsley, lemon zest, and lemon juice.

Divide pasta among bowls; drizzle with oil and top with more Parmesan.
Source – bonappetit.com
---
---