Poor Mans Pierogi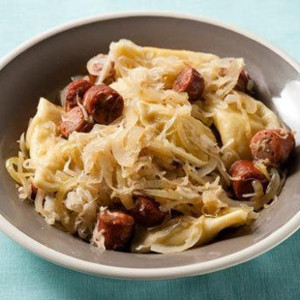 Ingredients:
1 bag of egg noodles
1/2 cup butter
1 large onion, diced
3 pounds sour kraut, drained and rinsed
1 tablespoon caraway seed
1 tablespoon dry parsley flakes
2 teaspoons Dijon mustard
5 tablespoons brown sugar
2 pounds polish sausage cut up
Directions:
Cook noodles according to package directions.  Saute' onion in butter until soft. Add sour kraut, caraway, parsley, mustard, brown sugar, sausage, and salt and pepper and cook for fifteen minutes.  Stir in noodles and bake covered for 15-20 minutes at 350 degrees or keep warm in a crock pot.
---
---