Sheet-Pan Pork and Potatoes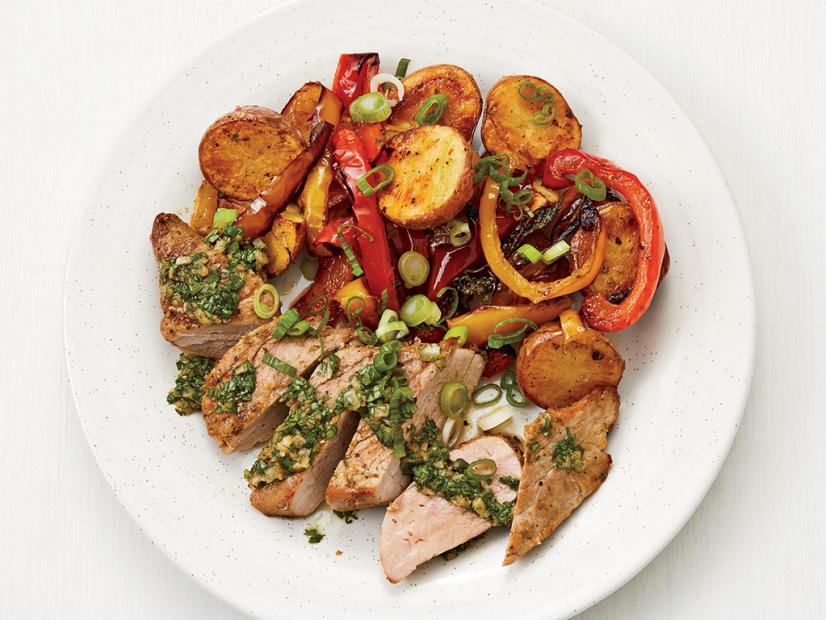 Ingredients
1 1/4 pounds small red-skinned potatoes, halved or quartered
2 yellow and/or red bell peppers, sliced
1/4 cup fresh cilantro, chopped (leaves and tender stems separated)
5 tablespoons extra-virgin olive oil
1 1/2 teaspoons dried oregano
Kosher salt and freshly ground pepper
1 pork tenderloin (about 1 1/4 pounds)
4 cloves garlic (1 grated, 3 whole)
1 teaspoon ground cumin
1/4 teaspoon grated lemon zest, plus 1 tablespoon lemon juice
1 scallion, sliced
Directions
Place a baking sheet on the middle oven rack; preheat to 450˚. Toss the potatoes, bell peppers, cilantro stems, 2 tablespoons olive oil, 3/4 teaspoon oregano and 1/2 teaspoon each salt and pepper in a large bowl. Spread on the hot baking sheet; reserve the bowl. Roast until the potatoes are just tender but not fully cooked, about 15 minutes.
Meanwhile, cut the pork on an angle into 4 pieces. Add to the reserved bowl along with the grated garlic, remaining 3/4 teaspoon oregano, 3/4 teaspoon cumin and a pinch each of salt and pepper; toss, then set aside to marinate. Put the remaining 3 garlic cloves in a mini food processor and add the remaining 1/4 teaspoon cumin, a pinch of salt, the remaining 3 tablespoons olive oil and the lemon juice. Process until the garlic is finely chopped; stir in the cilantro leaves and 1/4 teaspoon lemon zest. Season with salt and pepper.
Remove the baking sheet from the oven and stir the vegetables, leaving 4 open spots. Add the pork to the open spots and return to the oven. Turn on the broiler and cook until the vegetables are lightly browned and a thermometer inserted into the pork registers 140˚ to 145˚, 10 to 15 minutes.
Slice the pork; top with the cilantro sauce. Serve with the vegetables; sprinkle with the scallion.
Servings: 4
Source: FoodNetwork.com
---
---