Slow-Roasted Pork Shoulder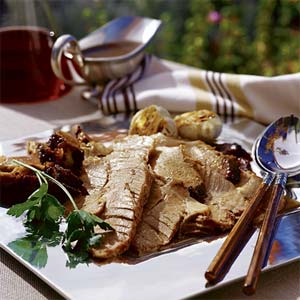 Ingredients
1 bone-in, skin-on fresh pork picnic shoulder (6 to 7 lb.)
1 head garlic (2 1/2 oz.)
1 tablespoon coarse salt
1 1/2 teaspoons dried oregano
1 teaspoon dried thyme
1/2 teaspoon fresh-ground pepper
1 onion (10 oz.), peeled and sliced
1 carrot (4 oz.), rinsed and sliced
1/2 cup oloroso or cream sherry
4 cups fat-skimmed chicken broth
1/4 teaspoon dried hot chile flakes
1 1/2 teaspoons sherry vinegar or balsamic vinegar
Directions
1. Rinse pork and pat dry. Score skin in a crisscross diamond pattern, making 1/8-inch-deep cuts about 1 inch apart. Separate and peel garlic cloves. In a mortar and pestle, crush garlic, salt, oregano, thyme, and pepper into a coarse paste (or mince garlic, then mix with salt, herbs, and pepper). Rub garlic paste all over roast. Set roast, skin side up, on a rack in an oiled 9- by 13-inch roasting pan.
2. Roast in a 450° oven (see notes) until deep golden brown, 40 to 45 minutes.
3. Remove pan from oven and scatter onion and carrot slices around pork. Pour 1/4 cup sherry and 2 cups broth into pan. Add chile flakes. Baste pork with some of the pan juices. Reduce oven temperature to 225° and bake until a thermometer inserted through the center of thickest part at bone reads 170° to 175°, 8 to 9 hours (do not insert thermometer before the last hour of roasting). If pork is done before you're ready to serve, reduce oven temperature to 160° and hold in oven up to 4 hours.
4. About 30 minutes before serving, transfer pork to a carving board. (For extra-crisp pork skin cracklings, see notes.) Cover pork loosely and set in a warm place. Pour the remaining 1/4 cup sherry and 2 cups broth into the roasting pan (drippings will be dark) and set on a burner over high heat. Bring to a boil, scraping up browned bits from bottom of pan. Boil, stirring occasionally, until liquid is reduced by about half, 7 to 10 minutes. Pour through a wire strainer set over a bowl, pressing on vegetables (discard vegetables); you should have 1 to 1 1/3 cups drippings. Skim off and discard fat. Stir in vinegar.
5. Lift skin off pork and cut it into bite-size chunks or strips; pile on a platter. Slice meat across the grain and arrange on platter. Drizzle about a fourth of the pan juices over meat; serve remaining to add to taste.
Notes
A convection oven is not recommended. For extra-crisp cracklings, pull skin off cooked pork, separate into bite-size pieces, and place in a shallow pan. Bake in a 400° oven until crisp and puffy, about 10 minutes.
Yield: 8 to 10 servings
---
---