Texas-Style Barbecued Brisket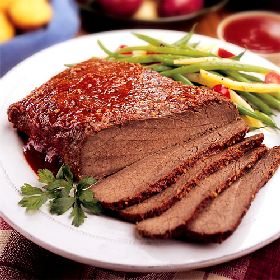 Ingredients:
1 beef brisket (3-4lbs), cut into halves if necessary to fit into slow cooker
3 tablespoons Worcestershire sauce
1 tablespoon chili powder
1 teaspoon celery salt
1 teaspoon black pepper
1 teaspoon liquid smoke
2 cloves garlic
2 bay leaves
Directions
Trim excess fat from meat and discard.  place meat in resealable plastic bag.  Combine Worcestershire sauce, chili powder, celery salt, pepper, liquid smoke, garlic and bay leaves in small bowl.  Spread mixture on all sides of meat; seal bag.  Refrigerate for up to 24 hours.  
Place meat and marinade in slow cooker.  Cover and cook on low 7 hours.  Meanwhile prepare barbecue sauce.
Remove meat from slow cooker and pour juices into 2 cup measuring cup; let stand 5 minutes.  Skim fat from juices.  Remove and discard bay leaves.  Stir 1 cup of de-fatted juices into barbecue sauce.  Discard remaining juices.  Return meat and barbecue sauce to slow cooker.  Cover and cook 1 hour or until meat is tender.  Remove meat to cutting board.  Cut across grain into 1/4 inch-thick slices.  Serve 2-3 tablespoons barbecue sauce over each servings.
---
---