California Rolls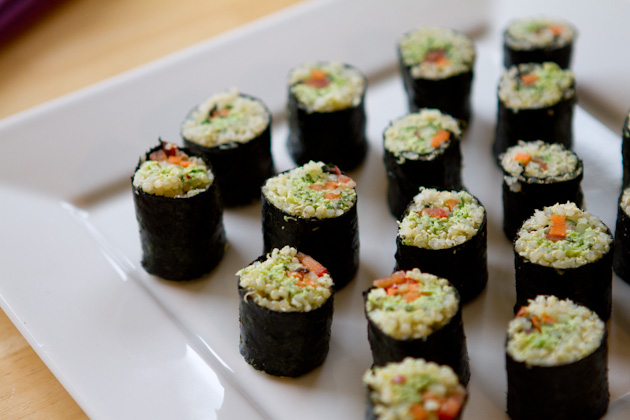 Rice:
6 cups of sushi rice
6.5 cups of water
2/3 cups of Rice Vinegar
4 Tbsp sugar
2 tsp salt
Wash rice in cold water until it runs clear.  Drain and put into rice cooker.  While rice is cooking heat up the rice vinegar, sugar, and salt until dissolved.  Remove from heat.  When rice is done, put into a large bowl and slowly stir in vinegar mixture.  The goal is to get this mixture into all of the grains and not into a glutenous glob.
The insides:
1 avocado
1 cucumber cut into thin spears
3/4 cup imitation crab
2 Tbsp mayonnaise
1/2 tsp salt
4 sheets of nori
Peel and cut the avocado and cucumber into strips.  Season crab with mayonnaise and salt mixture.  Sprinkle sesame seeds over the sushi rice.
---
---