Keto Butter Chicken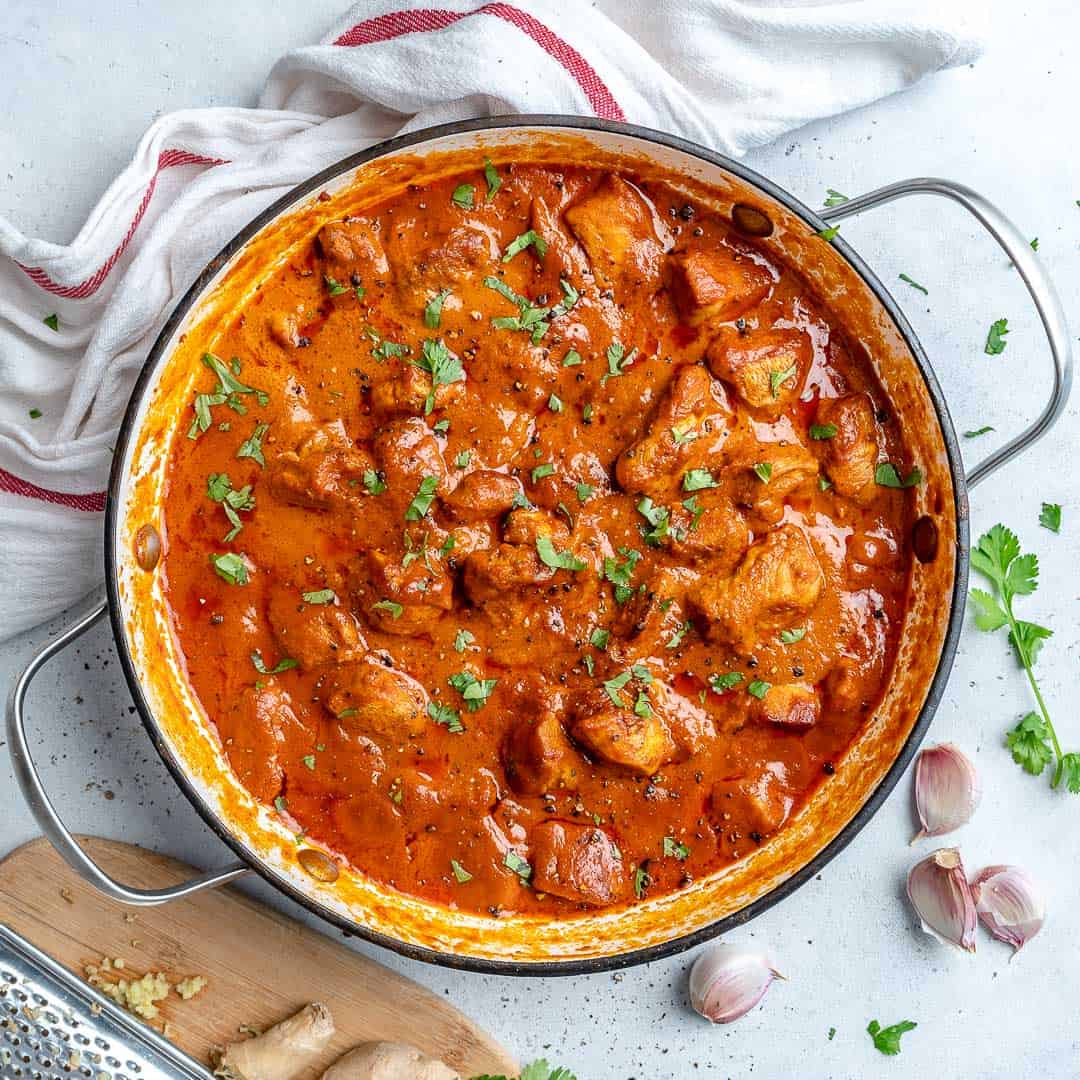 Ingredients
1/4 cup heavy cream
2 tablespoons tomato paste
2 tablespoons water
1 teaspoon Diamond Crystal kosher salt
1 teaspoon garam masala
1 teaspoon curry powder
1 teaspoon sweet paprika
1/2 teaspoon crushed red pepper
2 tablespoons butter
1 medium onion, chopped
1 tablespoon minced garlic
1 tablespoon fresh minced ginger
1 1/2 lb. boneless skinless chicken breasts, cut into 1-inch cubes
1 (15 oz can) diced tomatoes, undrained
2 tablespoons chopped parsley for garnish
Directions
Measure out the cream and remove from the fridge, to bring it to room temperature.
In a small bowl, use a small spatula or a fork to mix together the tomato paste, water, kosher salt, garam masala, curry powder, paprika and crushed red peppers, to create a thick paste. Set aside.
Heat the butter in a large skillet over medium-high heat, about 2 minutes. Add the onion and cook, stirring often, about 4 minutes, until soft.
Add the garlic, ginger and seasoning paste and cook 1 more minute, stirring.
Add the chicken cubes. Stir well to coat. Sauté the chicken on all sides for 2 minutes.
Add the diced tomatoes. Keep cooking over medium-high heat, stirring, 3-5 more minutes, until chicken is cooked through.
Lower heat to low and stir in the heavy cream to create a silky, creamy sauce. Serve immediately, garnished with parsley.
Source – https://healthyrecipesblogs.com/
---
---